Brixton: Good Vibes, Markets, Electric Ave & Bowie London Music Walks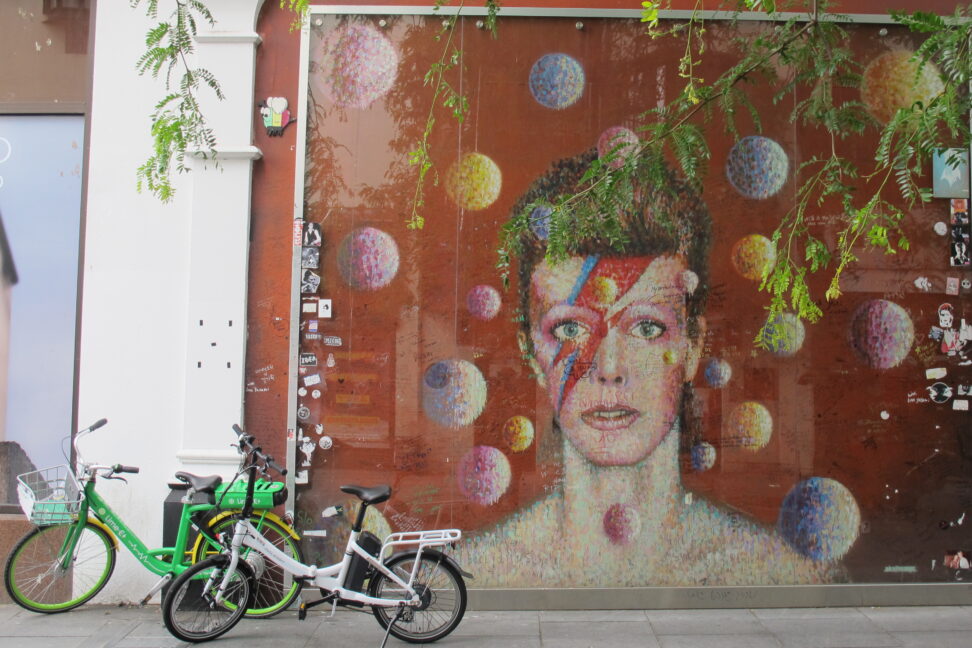 London Rock Tour: Original Rock Music Walking Tours
Brixton Musical & Cultural Heritage Walking Tour
Reggae – Trojan Records – Rude Boys – Punks – Skinheads – Rastas – 2 Tone – The Brixton Cat
Welcome to Brixton! "It's the birthplace of David Bowie, home of one of London's best-loved music venues, and the location of Britain's first cultural centre dedicated to black heritage."
Good vibes abound in vibrant Brixton! Delve into the musical, social, and cultural heritage on this 2 hour walking tour.
Explore the local heritage of the area's vaudeville past; roots of the insurrections of the 1980s; celebrate the local Caribbean culture and the resilience of the Windrush Generation. Discover Winifred Atwell, 'meet' Pearl Alcock, Rotimi Fani-Kayode, and see works by street artists such as Dreph. Here are the stunning Brixton murals, one dedicated to Michelle Obama, the Bowie shrine, plus the latest street art.
Wander the paths where Nico squatted with John Cooper Clark; discover 'hidden' shebeens, recording studios, hang outs and gig sites like Brady's and The Atlantic; explore the beating heart of several social and cultural movements, freedom fighters for equal rights, with the music provided by the local sound systems.
Adele, Sharon Osbourne, Danny Kirwin of Fleetwood Mac, Poly Styrene of X-Ray Spex, Mick Jones and Paul Simonon of The Clash have all called Brixton home. Alabama 3, Basement Jaxx and Flesh For Lulu among other bands were 'born in Brixton.'
Explore the famed Brixton markets. See Bowie's childhood home, locations of famed venues past and present such as Brixton Academy, Gunnell brothers' Ram Jam Club and The Frig. Our walk will take you through the best of the area, both centre stage and off the beaten track around Electric Avenue, Windrush Square, Railton Road, Coldharbour Lane, Atlantic Avenue and more.
Artists features include: David Bowie, the Trojan Records artists, Desmond Dekker, Jimmy Cliff, The Clash, The Slits, Steel Pulse, The Mighty Diamonds, Bob Marley, Linton Kwesi Johnson, Winifred Atwell, Poly Styrene & X Ray Spex, John Cooper Clark, The Specials, The Selector, Grace Jones, Alabama 3, Basement Jaxx, Eddy Grant, Junior Mervin, Geno Washington, Bob and Marcia, Rico & The Rudies/Joe's All Stars, Otis Redding & the Stax/Volt roster….plus every artist you can think of from the 60s through today has played the venues of Brixton!
MEETING POINT: Next to the flower stall opposite the Brixton Underground Station main entrance, Brixton Road SW9 8HE
SUGGESTED ITINERARY FOR PRIVATE DEPARTURES
This is a custom tour available for private departures, subject to guide availability — tailor made to best suit your interests — Why travel with a copycat, when you can go with the ORIGINAL London Rock Tour!
To make a reservation send your date request to: [email protected]

Email: [email protected]