Bob Marley & London's Caribbean Connections
Notting Hill, London Tour
HALF OR FULL DAY TOUR — Can be a vehicle/driver/guide tour in Notting Hill and Central London OR this can be a WALKING TOUR OF NOTTING HILL if you prefer. Spoilt for choice!
London Rock Tour: Original Rock Music Tours
Why travel with a copycat, when you can go with the ORIGINAL London Rock Tour!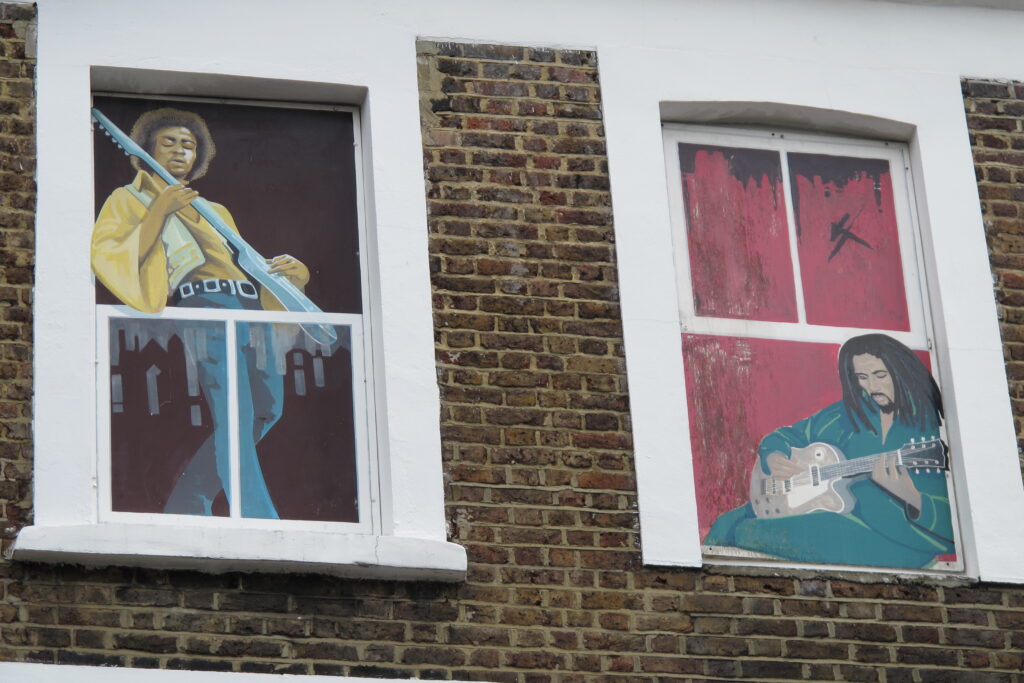 Celebrating the Windrush Generation
Also Hippies, Punks & Rastas. Notting Hill was thrust into the spotlight 20 some years ago with the iconic Julia Roberts/Hugh Grant film, but this West London neighbourhood has a deep cultural heritage.
Here is one cradle of London's Caribbean community. Learn about the cultural shift of London's post war, racial strife and hardship of the Windrush Generation. Celebrate their heritage and the origins of the Notting Hill Carnival.
NOTTING HILL HIGHLIGHTS: See All Saints, the Mangrove and what was Island Records. Our route takes us via some very scenic housefronts, cheery garden squares and nearly hidden mews.
Explore places for Bob Marley, The Clash, Pink Floyd, T Rex, Adele, Chrissie Hynde, Sex Pistols and more. There are classic recording studios, and film locations – Notting Hill and perhaps find Love, Actually…
Pay respects where Jimi Hendrix died. Here is where Sir Bob Geldof's Band Aid was born, where Paula Yates passed, where Sid & Nancy partied. See a posh hotel that has inspired artists for decades; punk venues and homes; of course a few famous film locations; and perhaps, likely, glimpse the local market.
FULL DAY OPTION CAN INCLUDE CENTRAL LONDON & CHELSEA: Bob Marley spent his short life in several parts of the capital of London. Amongst the locations and sites one can see are houses and apartments where he lived, including those of his first visit to the city with the Wailers in the early 1970s. A must see is the famed Island recording studios where so much of his latter recordings were made. Another option is the theatre where the seminal 'Exodus' live performance was recorded and other gig sites.
Explore Bob Marley's life and heritage, his legacy, and his continued influence on reggae and associated musical styles. This tour also celebrates the brave Caribbean immigrants who changed the face of the capital, bringing their vibrant musical and cultural influences.
Experience the vibrant and culturally rich neighbourhood Notting Hill​, where many immigrants from the Carribean settled in the 40s and 50s. Learn of the area's the tumultuous past now transitioned into celebration with the annual Notting Hill Carnival, the backdrop for our journey following the life of Bob Marley.

Email: [email protected]
This is a PRIVATE CUSTOM TOUR OPTION — we tailor it to your specific wishes. You can do a nice half day tour, by vehicle around central London locations, Chelsea, and Notting Hill OR make it a Notting Hill focused walking tour.
Another option is Brixton, not a lot directly associated with Bob Marley, but it is the beating heart of London's Carribbean community. You can do it all (Central, Notting Hill & Brixton) as a private full day tour. Spoilt for choice! Please discuss your priorities with us.
SUGGESTED ITINERARY FOR PRIVATE DEPARTURES
This is a custom tour available for private departures, subject to guide availability — tailor made to best suit your interests — Why travel with a copycat, when you can go with the ORIGINAL London Rock Tour!
To make a reservation send your date request to:  [email protected]