Frequently Asked Questions
Q. Are these walking tours?
A. No, these are small coach panoramic tours with photo stops – but sometimes do have short walking sections. You certainly are off the vehicle at the Abbey Road crossing!
Q. Where is the pick-up point?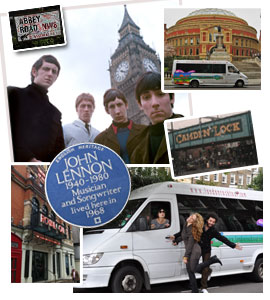 A. MEETING POINT: Duke of York Column Monument, St. James's, London SW1Y 5AJ, Junction of Waterloo Place and Carlton House Terrace.
DIRECTIONS TO THE MEETING POINT: From Piccadilly Circus tube, come out of Regent Street St James exit. The column is directly straight ahead, you should see it down the street as you exit the station. Walk straight on Regent Street St James, past shops including Tesco Express, Costa and Pret (stops for food/drinks & toilet option.) Regent Street St James becomes Waterloo Place. Cross Pall Mall. You should pass Atheneum Club and a few statues along Waterloo Place. Duke of York monument is the tall column at the very end of Waterloo Place. Please wait at the base of the monument for your rock tour guide, on the Carlton House Terrace side (not the steps side please.)
Please plan to arrive 5/10 minutes prior to your tour start time so you can check in with your Rock Tour Guide.
Occasionally, we have to start from an alternative point when travel in the city centre becomes difficult though parades or demonstrations. You will always be advised of any changes.
Q. What time do we get back from the tours? In time for afternoon tours and theatre?
A. About 12.30 on the morning tour; 17:00 on the afternoon tour and about 20:00/20:30 on the evening tour. It can vary due to traffic – we don't rush!
Q. Where do the tours finish?
A. We usually drop off near Piccadilly Circus tube station, right in the city centre, close to the underground and theatre district.
Q. Can you collect me from my hotel?
A. Not on regular, scheduled tours. We depart from our central meeting point only.
Q. Do we walk across Abbey Road?
A. Absolutely! On the morning, afternoon and evening scheduled tours.
Q. Can we go inside the Abbey Road studios?
A. No. The studios do not allow visitors inside but you can take lots of photos from outside and write on the wall (if that's your ambition!).
Q. Are the tours only in English?
A. Yes. But for private groups we can hire in translators, subject to availability.
Q. Are there any entrances fees to be paid?
A. No, everything we see is free. Primarily our tours are panoramic, you see places of interest from the vehicle, the tour does not go inside buildings.
Q. Can we just turn up on the day and pay on the tour?
A. If there are seats available, yes. However, as the tours are popular, pre-booking is strongly recommended!
Q. Are there any stops on the tour?
A. We pause at various points on route for photo ops and we take a comfort break when needed.  Occasionally there is a short walking section, depending on time and guide choice. There's usually no comfort stop on our evening tour as it is shorter.
All tours stop for the famous photo stop at the Abbey Road crossing, you are off the coach at Abbey Road crossing for sure.
Q. Do you do private tours?
A. Yes, for any size of party with the cost depending on the party size and the length/type of tour. We have run tours for birthday parties, special occasions, corporate incentive groups, and even wedding showers. We also design and run educational tours on aspects of music and popular culture for college and university groups. You can be any size party from 2 guests to 200!
Q. Do you take people with mobility challenges?
A. Yes, as long as they are able to get on and off the vehicle. There are 2 or 3 slightly steep steps in/out of the vehicle. Folding wheelchairs can usually be stored in the trunk. The vehicles do not have a wheelchair lift. If you have any questions, please email us.
Q. Are the tours suitable for children?
A. Not for the very young, but it's always lovely to welcome a new generation of rock fans on board.
Q. Do you offer FAM tours for the travel trade and media representatives?
A. Yes, subject to availability. Please contact us with your request. We have worked with major media organisations and worked as local producers for film and TV documentaries on London and the UK's rock history.